Détails
The GE63 Raider RGB is an all-round gaming laptop that shines. It empowers you with irresistible force to triumph over every battle. Silky smooth visuals, heart-pumping audio, Per-Key RGB keyboard and aggressive cooling will all be used to your advantage, unleashing all the pro-gamer enthusiasm inside you. The Dragon Center 2.0 lets you tune and tweak to keep your games running at full capacity.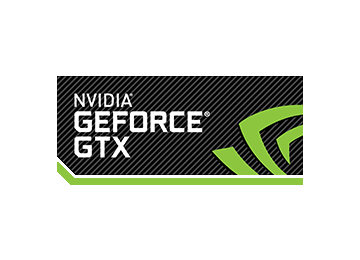 NVIDIA GEFORCE RTX 20 SERIES GRAPHICS
NVIDIA GeForce RTX delivers the ultimate laptop gaming experience. These sleek, powerful gaming rigs are powered by the new NVIDIA Turing GPU architecture and the revolutionary RTX platform. RTX graphics bring together real-time ray tracing, artificial intelligence, and programmable shading.
LATEST 8TH GEN INTEL HEXA-CORE PROCESSOR
Gain 40% performance enhancement over the previous generation with the extra cores.
LIGHT IT UP
The GE Raider RGB with cover and keyboard lighting gives you the granular control over illumination. The two parts can be linked or controlled separately, creating virtually endless combinations in 16.8 million colors.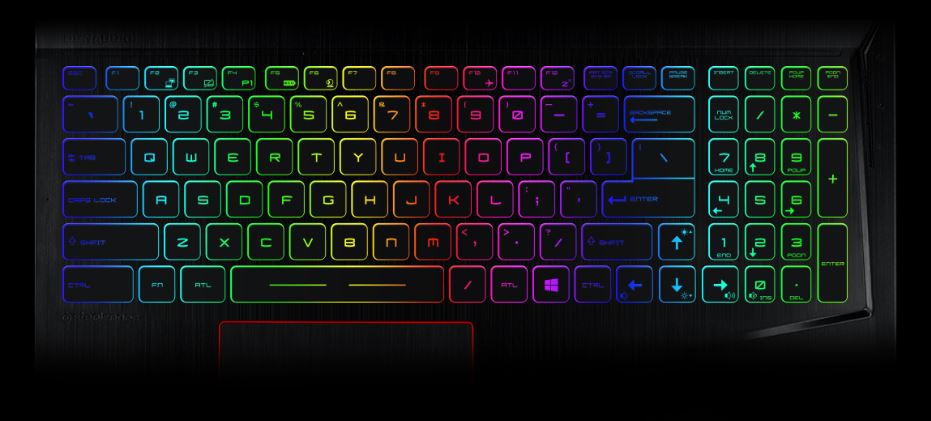 PER-KEY RGB GAMING KEYBOARD BY STEELSERIES
Customize each key to your liking and receive real-time in-game status through keyboard lighting, or even watch the lights dance to your favorite tune!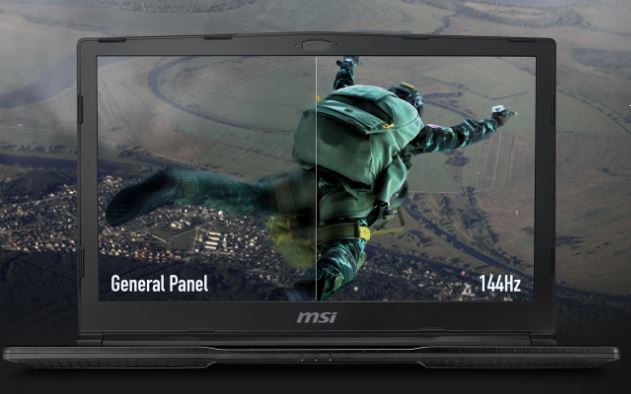 144HZ IPS-LEVEL GAMING DISPLAY—UNPRECEDENTED SPEED AND CLARITY
The fastest gaming display brings you the most vibrant visuals so you never miss a beat.
* Actual specification may vary by configurations.
MATRIX DISPLAY—MULTI-TASK WITH UP TO THREE MONITORS
Expand your vision across multiple displays with HDMI and mini DisplayPort, and enjoy up to 4K (3840x2160) resolution output at 60Hz for some extra productivity and fun.

TRUE COLOR 2.0—THE NEXT-TO-PERFECT COLOR PRESENTATION
Nothing is perfect, but closing in on perfection is as close as it gets. MSI True Color Technology, spawned a new height for the display technology. Each display undergoes thorough examinations and extensive factory-calibration process, guaranteeing exceptional color fidelity of close to 100% sRGB.

REVOLUTIONARY COOLING FOR ENTHUSIASTIC GAMING
Dedicated thermal solutions for both the CPU and GPU with a total of 8 heat pipes ensure maximum performance under extreme gaming.
* Illustration for GeForce RTX 2080. Design may vary by configuration.

NEWER, FASTER, LARGER DDR4-2666 MEMORY
Faster, more capacities, yet draws less power, DDR4 memory is the new standard to next-level gaming experience.

FINE-TUNING YOUR RIG WITH SHIFT
Switch between the best performance and extended battery life with the exclusive MSI "SHIFT" to meet all scenarios.
* Toggled through Dragon Center or Fn+F7 hotkey.

GIANT SPEAKERS BIGGER LOUDER CLEARER
Feel every engine sound wave roaring past with upgraded giant speakers and world-class Dynaudio sound system. The innovated design with 5x bigger chamber space generates top-notch auditory sensation. The oversize 2 speakers + 2 woofers create a realistic, fulfilling sound, and immersion.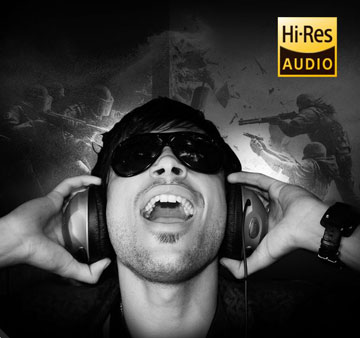 HIGH RESOLUTION AUDIO READY—HEAR EVERY DETAIL
Experience how sound is meant to be heard with the ESS Sabre Hi-Fi DAC (Digital-Analog-Converter). With the ability to support up to 24bit/192kHz sampling, it doesn't take an audiophile to tell the difference.
ALL NEW NAHIMIC 3 NEXT LEVEL AUDIO IMMERSION
Enhance in-game 3D surround sound and make finite control over your music, movies, and conference calls.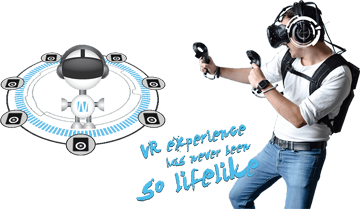 LIVE THE COMPLETE AND IMMERSIVE VR EXPERIENCE
The world's 1st audio solution to bring the 7.1 sound to a regular stereo headset. With audio algorithms improving 3D sound field drastically over HDMI and USB output, you can now enjoy breathtaking VR experience with 3D audio all together.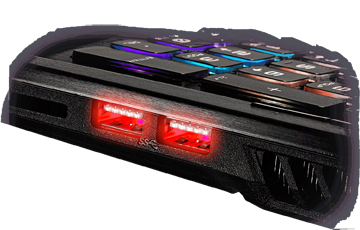 EASY ACCESS TO USB PORTS
Find your USB ports instantly, especially in the dark.
MSI APP PLAYER
Developed under an exclusive partnership with BlueStacks, the MSI APP Player brings seamless gaming experience between mobile games and PC platform, and leverages customized features as specific keyboard lighting and better graphics with multi-task works. the Nahimic VR button to turn on the VR audio effect through the Dragon Center, and prepare to be stunned!
* Hotkey backlighting will be available starting from Dragon Center ver. 2.3.1808.1001.
DRAGON CENTER 2.0—FREE BUFF FOR YOUR RIG
The redesigned Dragon Center 2.0 takes optimization to a whole new level. Now it not only monitors but also optimizes system performance through various customizable profiles, and freeing up system memories to prioritize in-game performance.

SILVER LINING PRINT
See more and do more in the night with high-grade silver lining printed keys. See the full color spectrum on the SteelSeries multicolor keyboard and enjoy longer lasting keys worry free of long-term wear and tear.

STEELSERIES ENGINE 3 (SSE3)—TARGET, POSITION, AIM AND FIRE
During gameplay, SteelSeries Engines 3 serves as your firearm. With SSE3, you get to suit up your weapon with cool look by lightening it up with multiple backlit colors, transform your keyboard into a high technology firearm by setting up several keys into one key command and cloud syncing all SteelSeries gears together.
* User interface may vary by models.