Détails
Based on the NVIDIA Pascal (NVIDIA's most powerful GPU architecture ever), the Quadro P6000 sets a new performance standard for workstation graphics card. Built using 16nm manufacturing process, the Quadro P6000 features 3840 CUDA Cores - a significant boost over its previous generation counterpart, and staggering 24GB, 384-bit GDDR5X memory, for a new level of performance required for your most demanding creation & design work. And with a host of new display technologies and innovative capabilities, professionals across a range of industries now can create the most complex designs, solve the most challenging visualization problems and experience the creations within the most detailed, lifelike VR environments.
Designs are becoming more complex all the time. Media is becoming richer, combining greater resolutions and complex visual effects. Scientific visualization and compute problems are larger than ever. VR is changing entertainment, design, engineering, architecture, and medicine. And you need to validate designs, rehearse procedures, and visualize problems - interacting with them naturally and at scale.
3D Graphics Architecture
Scalable geometry architecture
Hardware tessellation engine
NVIDIA GigaThread engine with dual copy engines
Shader Model 5.1 (OpenGL 4.5 and DirectX 12)
Up to 32K x 32K texture and render processing
Transparent multisampling and super sampling
16x angle independent anisotropic filtering
32-bit per-component floating point texture filtering and blending
64x full scene antialiasing (FSAA)/128x FSAA in NVIDIA SLI Mode
Decode acceleration for MPEG-2, MPEG-4 Part 2 Advanced Simple Profile, H.264, HEVC,MVC, VC1, DivX (version 3.11 and later), and Flash (10.1 and later)
Dedicated H.264 and HEVC Encoder1
Blu-ray dual-stream hardware acceleration (supporting HD picture-in-picture playback)
NVIDIA GPU Boost (automatically improves GPU engine throughput to maximize application performance)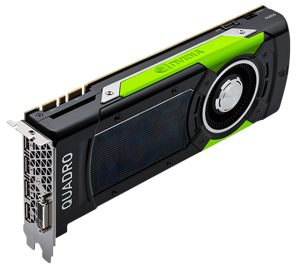 Advanced Display Features
Support for any combination of four connected displays
Four DisplayPort 1.4 outputs (supporting resolutions such as 3840 x 2160 at 120 Hz and 5120 x 2880 at 60 Hz)
Four DisplayPort 1.4 outputs (supporting resolutions such as 3840 x 2160 at 120 Hz and 5120 x 2880 at 60 Hz)
Internal 400 MHz DAC DVI-D output (analog display up to 2048 x 1536 at 85 Hz)
Available DisplayPort to VGA, DisplayPort to DVI (single-link and dual-link), and DisplayPort to HDMI cables (resolution support based on dongle specifications)
HDR support over DisplayPort 1.4 (SMPTE 2084/2086, BT. 2020) (4K at 60 Hz 10b/12b HEVC Decode, 4K at 60 Hz 10b HEVC Encode)
HDCP 2.2 support over DisplayPort, DVI, and HDMI connectors
12-bit internal display pipeline (hardware support for 12-bit scanout on supported panels, applications, and connection)
NVIDIA 3D Vision technology, 3D DLP, Interleaved, and other 3D stereo format support
Full OpenGL quad buffered stereo support
Underscan/overscan compensation and hardware scaling
NVIDIA nView multi-display technology
Support for large-scale, ultra-high resolution visualization using the NVIDIA SVS platform which includes NVIDIA Mosaic, NVIDIA Sync and NVIDIA Warp/Blend technologies

DisplayPort and HDMI Digital Audio
Support for the following audio modes: Dolby Digital (AC3), DTS 5.1, Multi-channel (7.1) LPCM, Dolby Digital Plus (DD+), and MPEG-2/MPEG-4 AAC
Data rates of 44.1 KHz, 48 KHz, 88.2 KHz, 96 KHz, 176 KHz, and 192 KHz
Word sizes of 16-bit, 20-bit, and 24-bit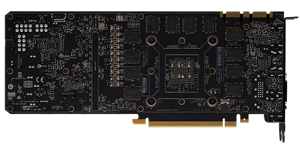 Quadro P6000 Performance and Features
The Quadro P6000, powered by NVIDIA Pascal architecture, provides the power and performance required by the most demanding visual computing workflows.
This next-generation product is based on the NVIDIA Pascal architecture and delivers up to 70% more visualization performance than the NVIDIA Maxwell- based Quadro M6000 24GB.
Ultra-fast GDDR5X on-board graphics memory provides nearly twice the memory bandwidth of the previous generation. 24 GB of GDDR5X memory means that you can work with larger models, scenes, and assemblies with improved interactive manipulation performance during design, visualization, and simulation.
VR-specific Pascal GPU features significantly improve imaging performance for the most detailed, lifelike VR experiences possible.
Tuned and tested drivers with support for the latest releases of OpenGL, DirectX, Vulkan, and NVIDIA CUDA ensure compatibility with the latest versions of professional applications. This lets you take advantage of their rich set of features and capabilities.
Creation and playback of HDR video is made possible with dual H.264 and HEVC encode engines and one H.264 and HVEC decode engine.
Quadro P6000 Enabled Vertical Solutions
Manufacturing
Designers and engineers can create without limits on size of assemblies, number of components, image quality, or resolution.
Quadro P6000 supports multiple displays at up to 5K resolution.
Use real-world physics, lighting, and materials during interactive design and visualize with photorealistic image quality.
Integrate simulation during design with finer time-steps, more depth of field, larger assemblies, and more detail in components.
NVIDIA Iray plug-ins enable designers to visualize designs with photorealistic image quality using physically based lights and materials as an integrated part of their workflow.
Combine multiple P6000 cards to provide incredible rendering power for the largest, most demanding rendering workloads.
Pascal's simultaneous multi-projection feature brings VR-based virtual prototyping to the next level. You can experience larger, more complex designs at scale, complete with virtual audio and touch integration.
Media & Entertainment
Editors can work in realtime with HDR content and up to 8K full resolution on their most complex projects with even more layers and effects.
Animators can create complex simulations and interactive visual effects like never before.
Build extremely large scenes with large numbers of 3D elements, all fitting in graphics memory.
3D texture painting artists can enjoy creative flexibility in their workflow without being constrained by a maximum number of textures.
Visual effects artists can create the most complex special effects, maintaining all assets in graphics memory and streamlining the effects workflow.
GPU-powered rendering enables artists to visualize creations with photorealistic image quality using application-based, GPU-accelerated rendering or with NVIDIA Iray plug-ins using physically based lights and materials.
Dual H.264/HEVC encode engines and one decode engine let you create and playback ultra-high quality HDR content.
Quadro P6000 brings new levels of VR content creation power, enabling more complex, more detailed, and more lifelike VR experiences than ever before.
Energy
The P6000 GDDR5X memory provides up to twice the performance of the previous generation, allowing seismic interpreters to examine larger data sets with higher levels of interactivity without cutting down the size of the data or reducing fidelity. Reservoir simulations can traverse GPU memory more quickly giving better performance.
With up to 70% better compute performance than the previous generation, geoscientists can run simulations faster, speeding up time to solution.
AEC
Architects can create larger models—including designing, conducting analysis, and making detailed walkthroughs of structures with greater levels of realism.
Plant designers can create more complex plant designs and conduct verifications and walkthroughs.
Urban designers can create larger models with more detail and complexity.
Powered by the P6000, VR-enabled walkthroughs allow customers to experience buildings at scale, providing instant feedback on designs, colors, textures, and features, and reducing costly rework once construction has begun.
Immersive Visualization
Drive more complex, lifelike HMD-based VR experiences by taking advantage of the P6000's VR-specific GPU hardware.
Build completely immersive environments with a single P6000 driving multiple 4K projectors.
Quadro Sync II with multiple P6000s can be used to create extremely large virtual displays (available November 2016).
NVIDIA Mosaic technology, combined with the P6000, enables seamless multi-projector implementations.
Visual Simulation
Create flight simulations that circle the globe seamlessly without limitations to altitude or detail.
Connect multiple displays or projectors to create 360-degree field of view.
Quadro Sync II can connect multiple P6000 cards and workstations for massive multi-display and multi-projector simulation environments (available November 2016).
Value for IT Administrators
Quadro products are designed, built, tested, and supported exclusively by NVIDIA—not third-party add-in board vendors—to ensure maximum uptime. Components rated for higher performance, quality, and longevity are designed in to deliver the highest level of product reliability.
Long-life, unified software drivers for the enterprise undergo extensive testing. This includes subjecting a broad range of workstations and business PCs carrying various Quadro products to tens of thousands of machine hours of stress tests and thousands of hours of attended platform testing.
Quadro products have earned application certifications from more than 100 Independent Software Vendors (ISVs). Comprehensive compatibility testing and performance tuning with leading third-party ISVs across a broad range of industries ensure optimal and stable performance with current versions of their applications and support for the latest features.
Remotely monitor and manage Quadro products deployed in your enterprise by integrating the NVIDIA Enterprise Management toolkit within your IT asset management framework. The toolkit offers a robust set of asset management capabilities to the IT Administrator that includes end-user display configuration and GPU monitoring.
Remotely monitor and manage Quadro products deployed in your enterprise by integrating the NVIDIA Enterprise Management toolkit within your IT asset management framework. The toolkit offers a robust set of asset management capabilities to the IT Administrator that includes end-user display configuration and GPU monitoring.