Détails
NVIDIA Quadro P600
Full Professional Performance and Features in a Small Form Factor
The NVIDIA Quadro P600 combines a 384 CUDA core Pascal GPU, large on-board memory and advanced display technologies to deliver amazing performance for a range of professional workflows. 2 GB of ultrafast GPU memory enables the creation of complex 2D and 3D models and a flexible single-slot, low profile form factor makes it compatible with even the most space and power-constrained chassis. Support for four 4K displays (4096x2160 @ 60Hz) with HDR color gives you an expansive visual workspace to view your creations in stunning detail.
Quadro cards are certified with a broad range of sophisticated professional applications, tested by leading workstation manufacturers, and backed by a global team of support specialists. This gives you the peace of mind to focus on doing your best work. Whether you're developing revolutionary products or telling spectacularly vivid visual stories, Quadro gives you the performance to do it brilliantly.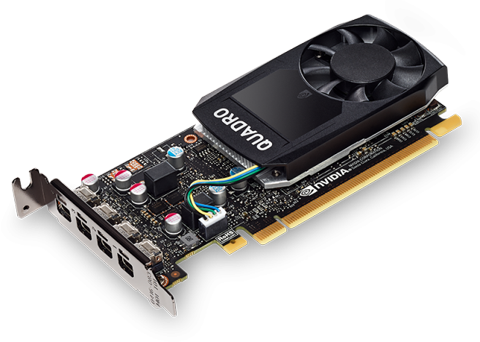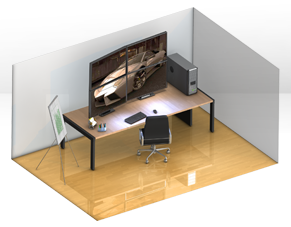 NVIDIA Mosaic* Multi-display Technology
Span any application across up to multiple displays in 4K from a single workstation, without sacrificing performance or image quality. PNY Quadro P600 features four mini DisplayPort 1.4 connectors**, and supports jaw-dropping multi-display setup of 4x 4096x2160 @ 60Hz or 4x 5120x2880 @ 60Hz. See your design, animation or video across up to four 4K displays with stunning clarity.
NVIDIA nView Desktop Management Software
Easily manage a multi-display environment with NVIDIA nView desktop management software. Have full control with complete flexibility to create a personalized desktop environment.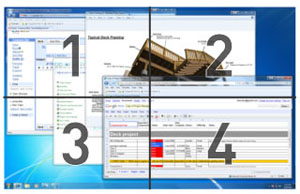 DisplayPort with Audio
With support for audio, you can hook up a monitor with DisplayPort audio playback capability to PNY Quadro P600 graphics card through a single DisplayPort cable. No more bulky cables for your audio/video needs.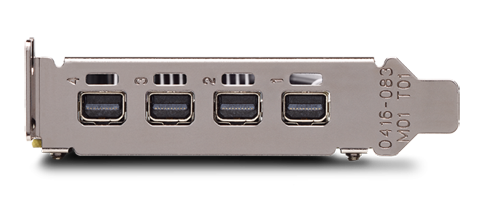 NVIDIA Iray and Mental Ray Support
Thanks to support for NVIDIA's premium plug-ins – Iray and MentalRay, PNY Quadro P600 lets professionals fully release their creative inner beasts.
NVIDIA Iray is a highly interactive and intuitive physically based rendering technology that generates photorealistic imagery by simulating the physical behavior of light and materials. Unlike traditional production renderers, Iray delivers results reflecting real-world behaviors. Designers don't need expert knowledge of computer graphics techniques to quickly achieve photorealistic results.

NVIDIA mental ray - feature-rich, high-performance 3D rendering software - generates images of outstanding quality and unsurpassed realism. It combines physically based light simulation with full programmability to let you create any imaginable visual effect.
HDCP 2.2 Support
PNY Quadro P600 supports the latest HDCP 2.2 standard. Enjoy the most secure connection between your source and display
PACKAGE CONTENTS
NVIDIA Quadro P600 Professional Graphics Board
Attached Low-Profile (SFF) Bracket
Unattached Full-Height (ATX) Bracket
Software Installation Disc
Printed Quick Start Guide
Four mDP to DP Adapters
Note:
* Windows 7, 8, 8.1 and Linux
** VGA/DVI/HDMI support via adapter/connector/bracket